Comments by donators
Continuing however hard it may be, to sum it up.
Kohichi Nakayama President, Sophia Alumni Entrepreneurs Club
CEO, Chemitox, Inc.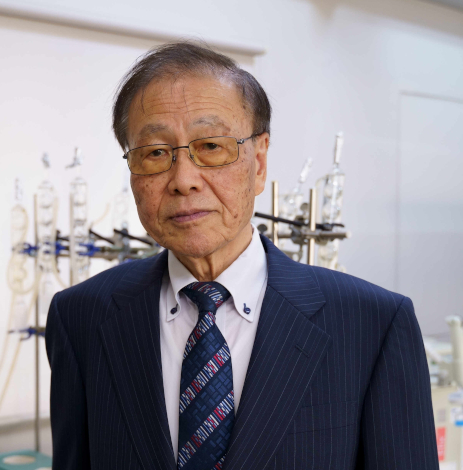 In our limited life, after all, I think it is important to do everything with confidence.
I suffered acute kidney inflammation when I was a high school junior. As the disease was beginning to turn chronic, I was told to have complete bed rest. Therefore, I have no pleasant memories in my high school life. It was a dark adolescent age, indeed. At the time of my college entrance exams, physics and chemistry were compulsory subjects to enter Sophia. I happened to have a good academic record in chemistry since my high school days. So, I decided to go ahead on the strength of this subject. As I was among the first group of students ever to enter the Faculty of Science & Technology at Sophia, the University side was not prepared well for accepting students in the faculty. There was not even a school building. So much so that we received lessons inside a hog-backed schoolhouse, which does not exist now as it was taken down. German-made devices and machines were introduced when I was in the third to fourth year, and we had the latest equipment in place by the time we graduated. At that time, experiments began when we were fourth-year students. So, I had only one year to do so, and wanted to do more experiments, prompting me to decide to go to a graduate school. Today, almost all students in the Faculty of Science & Technology proceed to graduate schools. In my age, such students were relatively few. As my generation who entered the Faculty of Science & Technology was an inaugural class, we were also the first batch of students in the graduate school as well.As I finished a master's program, I was going to a doctorate course. But the Education Ministry then had yet to authorize the doctoral program for which Sophia had applied. My teacher told me to "work at a company first" and promised to "contact me once the approval is given by the Ministry." So, I had no choice but to graduate. Given such a background, I was sort of extremely obsessed with a doctoral program, or persisted in it, frankly speaking.

Then, I entered Nippon Soda and acted as a researcher at the School of Engineering's Institute of Engineering Innovation (then belonging to the Faculty of Engineering), University of Tokyo. As a graduate from a postgraduate school was rare even at Nippon Soda, I was told to "study at the University of Tokyo since you are still studying after graduating a postgraduate school." That is why I took part in industry-academia joint research, which is popular today. I was thinking of living a different life after graduating university at long last. But I was doing flask experiments again as in my university days, and I didn't really feel much that I had graduated university. At that time, we were in an era when student movements were active, and I witnessed the fall of the Yasuda Auditorium between experiments.

When I said I'm a Sophia graduate, I was often told that you must be good at English." Initially, I excused myself to say I'm not very good at English as I'm a Faculty of Science & Technology student. But I came to be fed up with making an excuse. In the meantime, I heard of a vacancy in Nippon Soda's New York representative office and I put myself up for the post. As a New York office worker, I thought I would be naturally asked about my English capability. So, I took the initiative, saying when asked about English, "Of course! I'm full of confidence because I'm a Sophia University graduate" (drawing laughter). In life, after all, I think it is important to do everything with confidence. Since then, I have publicized myself after setting up a company on my own, saying, while selling our products and services, "I understand technology and have a good command of English, too," because of the need to work with overseas business partners. I have thus won business deals. What we were doing then was business associated with U.S. safety standards, known as UL. At that time, electrical products cannot be exported from Japan without acquiring overseas safety certification. So, I traveled abroad myself for negotiations.  I learned English through business. Today, we are in an age when information on what was studied globally must be sent out to the world. Therefore, I think we've entered an era now when having a good command of English is only natural. I was able to overcome my weakness of English as I practiced its use hard with great enthusiasm in New York. I think that students today need not take pains so much as I used to because Sophia's education system is excellent.
To survive this world, I believe that nothing will work without making change.
Our company's business is to test and evaluate materials and products offered by customers. In an attempt to go a step ahead and produce something new, we have launched an R&D department on a full scale. As the world is focusing on a decarbonized society right now, we are going to embark on research and development in full swing, seeking to realize a carbon-free society. Specifically, we are taking on lithium cells and things like that, and, further ahead, all-solid-state batteries, and the problem of hydrogen energy… Moreover, we are undertaking R&D on power devices, a key element of electric vehicles. We have launched in-company R&D on a full scale under the theme of "developing something new, better than what is available now."
It may be a policy to engage in work in such a broad array of fields. Our specialty is macromolecule chemistry and, using materials based on it, there emerge various new substances, including plastics. Therefore, it costs an enormous amount of money for a chemical company to build a plant for producing plastics. When I was short of money having just established my own company, I thought that doing work from the perspective of someone else using plastics, or macromolecule, or knowing how plastics are used would broaden my horizons. That thought inspired me to start up this business. As I had sufficient knowledge about materials fundamentally, I changed my perspective of viewing macromolecular materials. A considerable amount of plastics materials is used as interior materials of an aircraft. There are very strict regulations in place on these plastics because risk rises to an extremely high level once a fire occurs inside an aircraft with confined space. I decided to introduce equipment necessary to assess such plastics so that Chemitox could exclusively take on the job of such evaluation. Today, we are engaged in assessment specialized in the field of aircraft. In railway cars as well, not only iron but also plastics or macromolecular materials are used inside railway cars in various ways. These materials are in use in the form of coated macromolecular materials as cushion materials for seats, etc. As railway cars have sealed space, too, it is very dangerous once a fire occurs. So, we offer to undertake testing of all materials. Regulations on railway cars are extremely tough in Europe. In contrast to the United States which is an automobile society, Europe has an extensive, convenient railway network, making it necessary to have common railway standards in place within the region. Before, each European country had its own standards for railway cars. With the EU brought into shape, moves have arisen to formulate uniform, unified standards for railway cars as well. We have been involved in this assessment test for  railway cars since such standards were put on the drawing board. We pride ourselves on our company being a front-runner in Japan in this area covering aircraft and railway cars.
All solar photovoltaic modules also consist of various combinations of macromolecular materials. The only difference is the presence of cells that generate electricity. On them are sealing materials, reinforcing materials that protect cells, or plastics, all of which are laminated. There are stringent regulations on them, too. Solar power generation was once a booming industry, resulting in the establishment of many companies undertaking assessment tests. As solar power lost steam gradually, all these new test labs have withdrawn. Yet we have hung on to remain in business, and nowadays Chemitox is perhaps the only surviving company of the kind. I think we are doing this business to the greatest extent. We are also engaged in joint research projects with the central government. We are flattering ourselves that our company is the No. 1 for solar power generation. Our base of business is chemistry, from where we started, but the point is that you should not be obsessed with such an origin. It is said that we have to change in order to survive this world. Although it may not be compared to the evolution of life, it will not work to just have a big body and be strong. I think it is useless not to change in a manner matching the times. That's why Chemitox has frequently changed itself.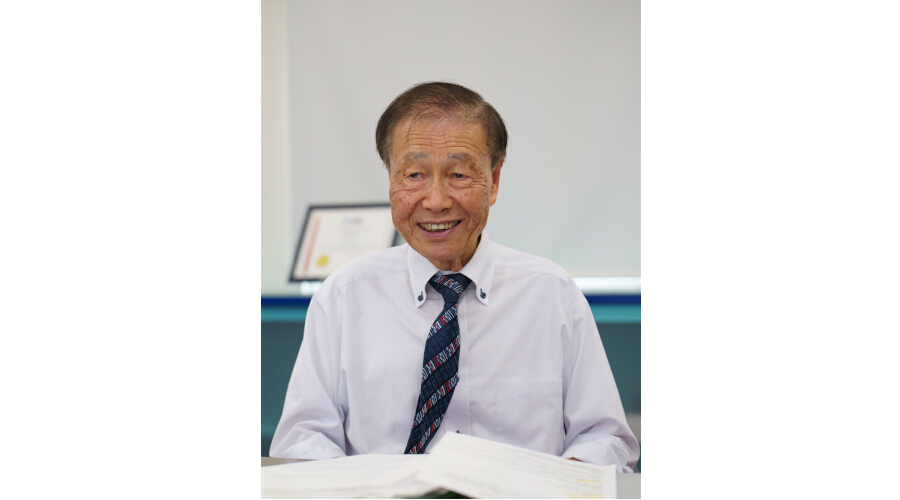 I would like to have a scholarship program established at Sophia for the doctorial course and entrust my dreams to the next generation.
Originally, I felt like studying since my student days. I now would like to hand over the baton to the next generation. I suppose that's one reason why I helped set up Sophia University's doctoral course scholarship program. Sophia University is overwhelmingly famous for its English-related education and, indeed, many eminent persons are active in this world. But when I was studying at the University, my colleagues and I would be asked, "Oh, does Sophia have a science and technology faculty?" and things like that, and we had a hard time to get a job. Such students we were. But graduates who had no interest in the University for more than 50 years since leaving the school have come to feel like contributing to the alma mater since the occasion of Kinshuku Sansankai celebrations marking Sophia's 100th anniversary of founding. This has led to the inauguration of the Entrepreneurs Club of Sophia University's Faculty of Science & Technology. The Entrepreneurs Club belong to the University's Faculty of Science & Technology Alumni Association. The society gathers those who have experienced company management or who are operating companies. While continuing such a gathering of business colleagues, I was thinking of boosting the name recognition of Sophia University's Faculty of Science & Technology, by fair means or foul, as the faculty was less known than humanities faculties. By setting up a scholarship program for the doctoral course with the help of Sophia Alumni Entrepreneurs Club and eventually having the program firmly established, we would like to expect the Faculty of Science & Technology to produce Nobel laureates one after another sometime in the future.
We are screening a second candidate for the scholarship right now. Through selection by the Entrepreneurs Club and the University's professors, there were initially five candidates, and we've narrowed down to three. All candidates introduced by relevant labs are excellent in academic performance. But we will eventually narrow down to one student. Under the scholarship program, a fairly hefty sum of around 5.5 million yen will be granted for three years without requiring repayment. To ensure legitimacy and fairness, we have organized a panel of intellectuals comprising two from the outside and one from the Entrepreneurs Club. The membership includes Mr. Izumi, former president of the Sophia University Alumni Association, and Professor Yui of Tokyo Medical & Dental University. Both have agreed to cooperate on a volunteer basis as graduates of Sophia University's Faculty of Science & Technology. This means that there is only one member from the Entrepreneurs Club, whose power is limited to 33%. Therefore, the final student is decided not by the Entrepreneurs Club but by the intellectuals' panel. I expect we can select a great talent.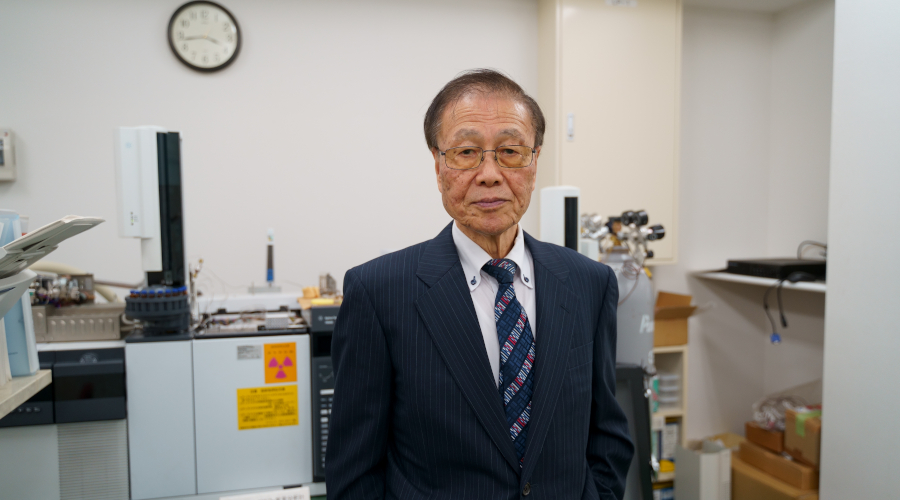 Let's wish that Nobel laureates will be turned out one after another from Sophia University's Faculty of Science & Technology.
Well, I feel there is a long way to go before the faculty's branding power gets admitted. Among graduates from Sophia's Department of Chemistry, one is the president of Kyocera Corporation. I think it will take a long time for one university to win acceptance in the world. In this sense, I am expecting that the doctoral course scholarship program will become helpful in the future. What is important with this scholarship is, I think, to continue however hard it may be, to sum it up. The key point is how to have students continue. The selection of the first recipient of this scholarship was not much difficult. From now on, we need to obtain understanding from the University as a whole and, as we choose an excellent student from among candidates and repeat the process for 10 times, 20 times, 30 times, and so on, I think we will never fail to find unprecedentedly rare excellent talent. At present, the scholarship is granted once every two years. If we can have a little bit more funds available, making it possible to select a scholarship recipient every year, we will have a bigger pool of candidates and various excellent talents will appear. For the moment, our goal is to try to secure funds so as to select a scholarship recipient every year. For what purpose do we make such efforts? It is because I think it is worthwhile to see a student continuing research to the extent of winning a Nobel prize after all eventually. I don't mind it being a dream right now, but I would like to cherish such sentiment, wishing that such a student would show up sooner or later. That dream leads to a big motivation inspiring us to continue fundraising for the scholarship program. By the way, you get considerable refunding in the form of a tax credit if you make a donation as an individual. Indeed, frankly speaking from the donating side, I was surprised to learn of a considerable amount of deduction— "Oh, I got refunded that much" —when I filed a tax return for the first time in connection with the donation. I would like people with money to spend to donate more and more.
If allowed to say further, I think it no use without Sophia University producing entrepreneurs and startups. For the purpose, I hope the University will introduce courses linked to entrepreneurship in routine classes, even though I think the it is doing so little by little. I will entrust to the University the mission of how to develop entrepreneurs from now on.
Let me add lastly. Japanese people would go nowhere if they didn't work hard with great enthusiasm. I expect to work very hard myself, too. I have an intention of contributing to Sophia University now. But I'm seeking to expand it further, contributing to Japan. People of the past were defeated in war but rose to their feet and built such a splendid nation as this. But it's a pity that the nation has become an underdeveloped country before we are aware. I believe that Japan, recalling the time of its defeat in war once again, must keep plugging away. I'm working today with that sort of feeling. But even if I work hard in the belief that so doing is for the sake of Japan, I cannot do anything yet for the nation. So, if I work to contribute to Sophia University first, then it will be in the interest of Japan in the long run. That's what I believe.